Pura Vida in Epañol, is a common greeting in Costa Rica, meaning "Pure Life" or "What a Life". It is our desire that you experience Costa Rica and your stay at our Casa brings you many happy memories of the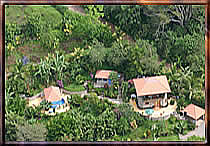 Pure Life" it affords its visitors.
Location: Casa Pura Vida is located approximately three miles south of the villiage of Dominical. This is a private home nestled on 2 1/2 acres of rainforest with many exotic flowers and fruit trees for your pleasure.
General Information: The home is situated a short way up a mountain which affords it's visitors cool breezes and spectacular views of the sea and Caños Island where Jurassic Park was filmed. The Casa is a two bedroom plus loft area, 2 1/2 bath, a balcony off both bedrooms to sit and relax or bird watch. Large fully contained kitchen and living area. A beautiful pool with hammocks to relax in and an outside bath with shower. Maid service is provided once a week.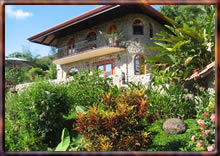 Troops of Congos, (Howler Monkeys) and White Face Monkeys are present most of the time. If you do not hear their very distinctive howl, look for swaying branches in the trees. Also look for tapirs, ant eaters, pizotes, and also a resident sloth. Two species of Tucan's share our property and appear around 4 p. m. near the pool.
Additionally, Casa Pura Vida offers a guest house with a king size bed, full bath, kitchen and wireless Internet connection. 6 people can sleep comfortably between the guest house and main house, but 8 can be accommodated as well, assuming of course that the loft is acceptable for two people.
A sweet outdoor security dog, named Oso, and an affectionate indoor-outdoor (your decision) cat, Lilo, both taken care of by staff.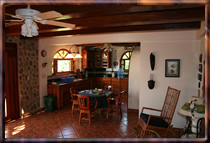 Main Casa Rates
December 18th - January 9th: $2450 wk $350/night
4 Guest Maximum
7 night minimum
January 10th - December 17th: $1750.00 wk $250/night
Guest Casita (Monkey Hideout)
The Monkey Hideout is a smaller, 1 bedroom casita available for rent.
$150/night All nights except
$175/night Christmas, New Years and Easter Weeks
DEPOSITS: 50% deposit at time of booking, with additional $350 security deposit, which will be refunded one week after departure from a state side bank.
DEPOSIT PAYMENT OPTIONS: Wire transfer to a U.S. bank, personal check or money orders to be mailed to U.S. address or Paypal for your credit card needs!
BALANCE DUE PAYMENT: Balance will be paid at time of arrival in U.S. Dollars only.
CANCELLATIONS: Less than 14 days cancellation, money will not be refunded unless another booking is made for that period.
PURCHASING SUPPLIES: It is advised to buy main supplies in San Isidro or Quepos enroute to the Casa. There are small grocery stores in Dominical and Uvita
These are some pictures of the "casa":
| | |
| --- | --- |
| Inside the "casa" | A relaxing bedroom |
| Rest in this relaxing bed | The "casa" surrounded by nature |
The "cabina"
The "MONKEY HIDEOUT" is a private guest cabina nestled among primary rain forest with a wonderful view of the sea and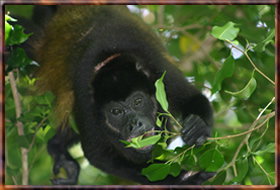 the Osa Peninsula where early raisers can watch the sunrise. It is a one bedroom (King bed) and the cabina comes fully equipped with all the amenities of home. The open air bath is situated for an optimum view of the rain forest and don't be surprised if you find Monkey's (both Howler and White Face) sharing the view with you. You will wake up to the sounds of Toucans right outside your window along with the many other Costa Rican species of birds. Enjoy the peaceful sounds of the surf and have the possibility of viewing whales breaching. There is a private drive which affords guests complete privacy The pool area is just steps away and is surrounded by a lush tropical garden where you can find banana tree's and pineapple growing . The daily rate is $125.00 with a three night minimum. Fifty percent deposit is due at booking.
We can be contacted at the following e-mail Sharon@casapuravida-costarica.com or call 787-8121, country code 506.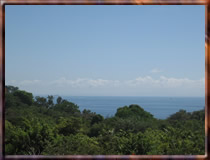 Also available is a larger Casa "Casa Pura Vida" which sleeps four and can be viewed on our virtual web site "casapuravida-costarica.com" This is a perfect option for those who have larger families or a group that would like to share the wonders and beauty of Costa Rica together.
These are some pictures of the "cabina":
| | |
| --- | --- |
| View the monkeys from the outside "baños" | Your kitchen |
| Your Home Away from Home | The Rain Forest out side your door |
Activities
| | |
| --- | --- |
| dolphin watching | A tucano on the trees |
| WOW! | A sunset in Dominical Beach |
Enjoy the tropical flower & fruit garden surrounding the home & pool. Fresh bananas and seasonal fruits are picked routinely for your eanting pleasures. See monkeys, birds and our resident sloth!
Additional Images